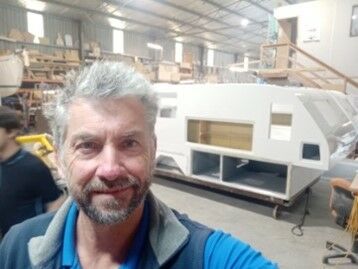 DAVID BRADBURN |
EXODUS OFFROAD CAMPERS PTY LTD
David has been involved with the EXODUS campers from building the original prototype back in 2006 to building and fitting out the GRP (Glass Reinforced Plastics) bodies and interiors of all EXODUS since then. David brings 35 years' expertise in boat building including manufacturing very light and robust monocoque fibreglass bodies, a critical feature of the EXODUS campers. Since 2006, Bluewater Cruising Yachts, managed by David, has built over 500 EXODUS campers that are all still going strong and continue to be serviced and supported Australia wide. In this time there has never been a structural failure. These campers are built to last just like the boats David and his team build. David is a passionate sailor, enjoying adventurous explorations throughout the South Pacific, and is looking forward to building his own EXODUS camper. David loves mountain E-bike adventures, bushwalking, and exploring Australia, both inland and by water.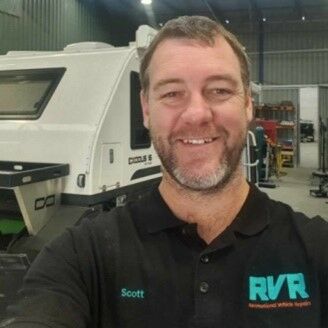 SCOTT GOULD |
RECREATIONAL VEHICLE REPAIRS (RVR)
Scott had been building EXODUS campers since 2008 and quickly rose to Production Manager. He researched and developed most of the Complete Campsite products. He has a proven track record in working out better and more efficient ways to construct the campers from practical storage solutions to electrical, plumbing, onboard systems, external kitchen and robust chassis.
Scott has developed and tested all Complete Campsite products including the EXODUS 9, 11, 14 and 16 models in the most remote and rugged parts of Australia. Scott has been a fervent camper for 30 years, exploring off-beaten tracks in Far North Queensland, Central Australia, Flinders Ranges, VIC high country just to name a few.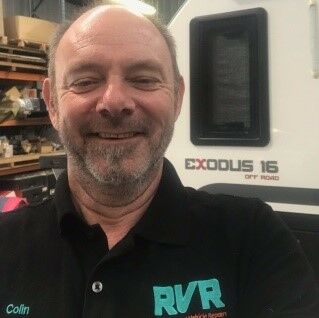 COLIN DORE |
RECREATIONAL VEHICLE REPAIRS (RVR)
Colin worked for Complete Campsite for 7 years and is now focussing on growing the start up Recreational Vehicle Repairs (RVR) with Scott and Lynette Gould. This new venture is committed to the development and continued delivery of the popular EXODUS range of campers with a total of 7 artisans.
Colin's expertise is in GRP repairs, fibre glassing, panel beating, detailing, colour matching, rhino coating and the fitout of all EXODUS campers products. Colin's workmanship and dedication to his craft is second to none. Colin is a keen water skier, as well as a motorbike and car enthusiast.